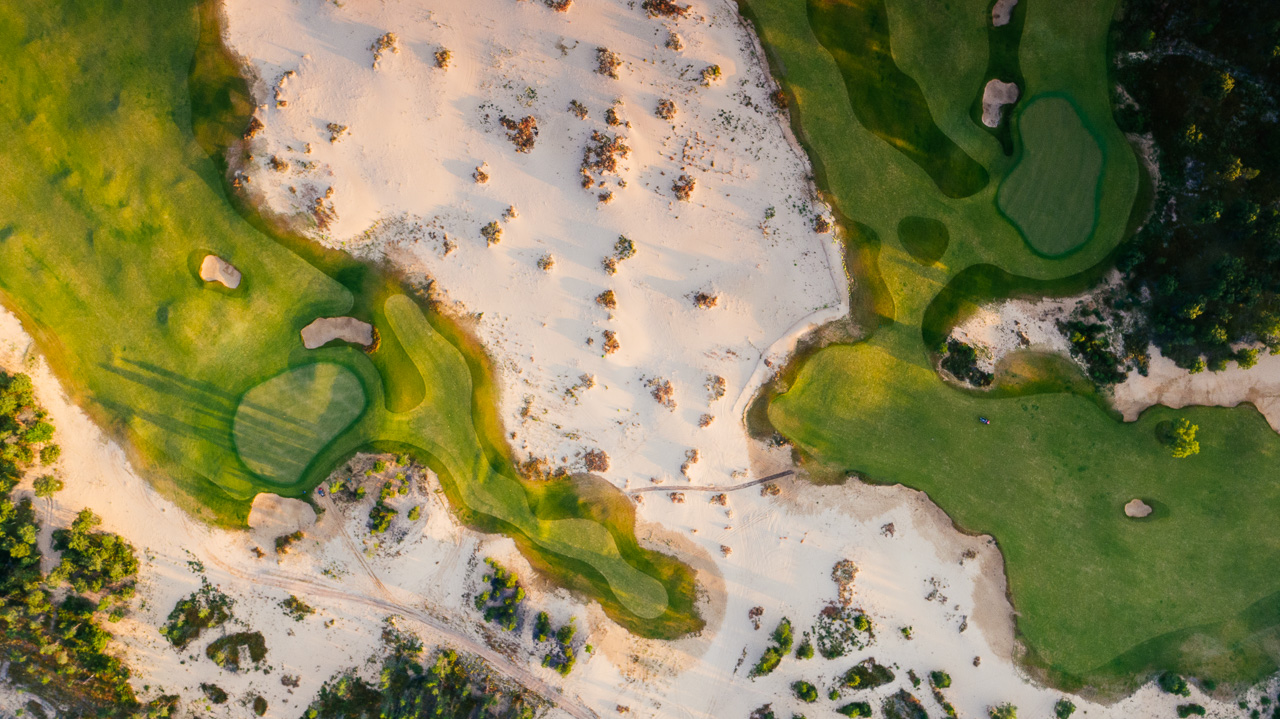 Mammoth Dunes of the Midwest
Words: Jack Carswell
Photos: William Watt
In search of an authentic American golf experience, Jack Carswell & William Watt travelled to Chicago & hit the road.
Our Sand Valley experience began as many others do – getting lost in the middle of Wisconsin. A short four hours north-west of Chicago, our satellite navigation system went into meltdown in its attempt to find the exact location of the newest golfing destination in the Midwest. In its defence, a review of Google Maps the next morning not only highlighted the remoteness of Sand Valley but begged the question: how was this land discovered for golf? Acres of nothing but red pine plantations free of any major body of water, a key ingredient in the majority of recent standout courses. It took a Chicago businessman trekking through the area with his wife in 2012 and a call to prolific golf course developer Mike Keiser (the man behind Bandon Dunes among others) before a location scout was sent to the sandy forest. Despite the lack of ocean, Mike must have liked what he heard. A vast landscape of glacial sand with enough acreage to give any architect free reign – complete with predetermined blowout bunkers (really, you should check out Google Earth).
We set up camp in 'The Clubhouse', a set of upscale modern suites adjacent to the main clubhouse overlooking the 1st tee of Mammoth Dunes, the David McLay Kidd-designed second course currently under construction. DMK, who was responsible for the first course at Bandon Dunes, recently had his Castle Course at St Andrews rated a 'zero' in rival architect Tom Doak's new book The Confidential Guide to Golf Courses, Volume I. The vista from our room over the 1st and 18th fairways of Mammoth Dunes hinted that the same wouldn't be said of this place.
Against all advice we decided to play Mammoth before Sand Valley. Tipped to officially open in 2018, 9 holes were available for preview play and we had travelled too far to not whet the appetite. From the outset it was clear that DMK has left little sand without turf, with some of the fairways seemingly measuring equally in width as they do in length. Mammoth by name, mammoth by nature. The target areas available from the tees were in the most part disconcerting as we began to regret our decision to head out without caddies. Wide open fairways give the average golfer a good chance of scoring well, while strategically placed bunkers and approach angles provide a tantalising test for the more astute player. Mammoth really felt like what Sand Valley was always going to be. Vast, natural-feeling fescue fairways rolling into deep expanses of sandy wasteland, lined by what remains of the pine plantations.
After an evening of night putting (the putting green has holes and mini-flags lit up by some form of magic) and cold drinks surrounding the fire pit, we caught the golfer's shuttle to the 1st tee of Sand Valley. A Coore & Crenshaw design, Sand Valley has been compared with Bandon Dunes-style trails, a Keiser collaboration. It's hard to not be overcome with excitement looking out at holes 1, 10 and 18 from Craig's Porch, the halfway house we'll come back to later. One look at what lays ahead and it's apparent that whatever score is achieved, fun is guaranteed.
It all begins with a risk/reward short par-4. Almost driveable, it becomes a bogey hole or worse should a stiff, over-confident golfer take dead aim – with guess what, a sandy wasteland bunker waiting for anything left of the dogleg fairway. From here the challenges and opportunities come in droves. Each hole offers a birdie while threatening to question your decision not to throw a beach towel in the bag before heading out. For the golf architecture buffs, there are a number of template holes, including the 3rd, a Redan hole with a large ridge running along the right edge of the green. A good example of the playability offered to all, encouraging the low handicapper to execute a long iron over the bunker while allowing the average joe to use the green shoulder to run one around the bunker to get to the green.
The enjoyment continues throughout the front 9 with a variety of shot-making required, despite the apparent breadth of landing areas. Many hazards are obscured from the tee: case in point presenting at the 6th with a slender bunker extending further into the fairway than can be seen from the tee, catching anyone without a caddie thinking they have struck the ideal line. The playability from the bunkers is refreshing and shouldn't be understated. Whereas many courses will penalise players to the 'nth degree for finding sand, Coore & Crenshaw have left the golfer options for their escape, depending on what they are willing to risk to save par.
One of our favourites was the short par-4 9th hole. Elevated tees with a driveable, elevated two-tiered green surrounded by deep pot bunkers and thick fescue, flanked by pine-riddled sand dunes, this hole really epitomises the best that golf and Sand Valley has to offer. The 9th is a hole you could play over and over again and still have no idea that it divides a lake (the only water on site, but supposedly it holds fish), and the halfway house serves some of the best tucker of any halfway house in golf.
Ask anyone who has played Sand Valley and the ice cream sandwiches from Craig's Porch will get a mention. Numerous mouth-watering flavours are guaranteed to bolster your appreciation for mid round grazing. Complementing the sweets are a selection of simple yet delectable tacos and sliders and at $1.50USD a piece, they have been forced to employ a marshal to remind players of their pace of play obligations.
After an unexpected feast it was a relief to find the inward 9 less hilly and more valley-like, with a number of punchbowl style greens creating a few more scoring opportunities and less penal short game demands. The par-3s were again highlights, particularly the long 17th. With a huge punchbowl green invisible from the tee, the guesswork and anticipation walking from tee to green really captured the previous four hours of walking in a single hole, while emphasising the variety that we had come to appreciate. The last hole was a fitting finish to the day's play. A stunning uphill par-5 requiring two superb shots to reach the green with rolling fairways heavily guarded by sandy trouble. A huge multi-tiered green will likely see some matches decided by more putts than shots before icecream flavours are again hotly debated. Walking off the 18th at Sand valley will have you wanting more.
If, like us, you breathe golf and enjoy its simple pleasures with a cold ale and bare feet, then Coore & Crenshaw have you covered. Soon to open is a 17 hole (yeah, they do things differently) par-3 course immediately adjacent to the 'Fairway Lodge', our recommendation for lodging if relaxed golfing is your style. The yet unnamed short course was originally slated as 'Quicksand' however this was quelled by Crenshaw supposedly because of its deathly connotations. Not yet open at the time of our visit (and now names the far more friendly 'Sandbox'), it looks like the perfect place to level any unsettled wagers leftover from Sand Valley while squeezing in an extra bit of golf.